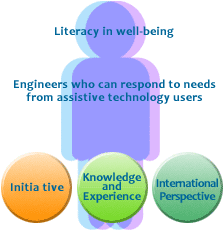 The Department educates future engineers who are literate in biocybernetics and who will become leaders in electronics, computers, system devices, and control systems. The Department's education principles are set out below.
We educate engineers who have a satisfactory command of basic technology and the flexibility to respond to diverse needs.
We educate engineering leaders who can think independently and act with initiative.
We educate engineers with an international perspective.